December 17, 2017 | by Ted Williams, Charlotte Agenda
 Nekter Juice Bar, a California-based chain, is now open in South End.
It's in the same shopping complex as the new Harris Teeter — the exact location is 2275 South Boulevard, Suite B.
Hours are Sunday through Friday from 7 a.m. to 7 p.m., and Saturday from 7 a.m. to 8 p.m.
Juices are $6.50 for a 16 oz., $8.50 for a 24 oz. and $10.40 for 32 oz. Smoothies are $6.50 for a 16 oz. and $8.50 for a 24 oz.
If you're a first-timer, I recommend the Berry Banana Burst Smoothie ($6.50) — strawberry, banana, blueberry, housemade cashew milk and a little agave nectar. It's tasty.
"Nékter Juice Bar is the pioneer of the modern juice bar experience offering a truly fresh and clean menu of juices, smoothies, acai bowls and other healthy snacks that taste as great as they make you feel," said founder Dr. Todd Engel. "We are fortunate to be able to open the first Nékter Juice Bars on the East Coast right here in North Carolina. "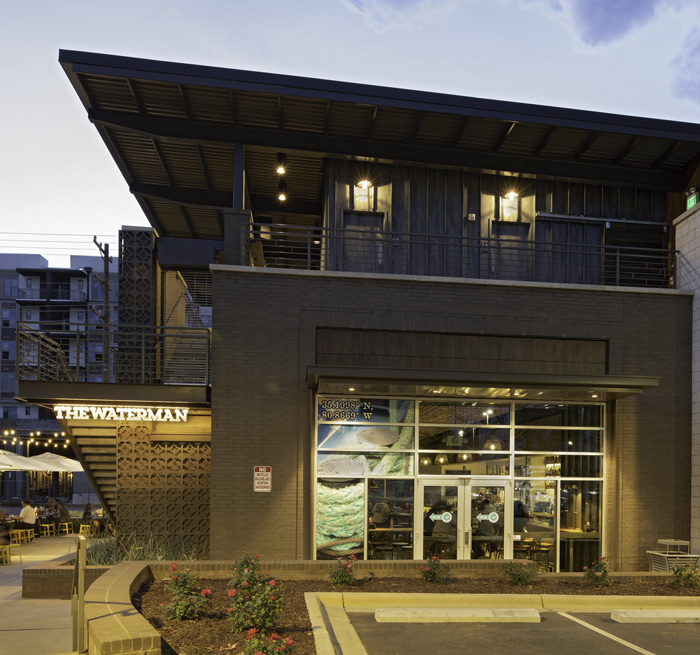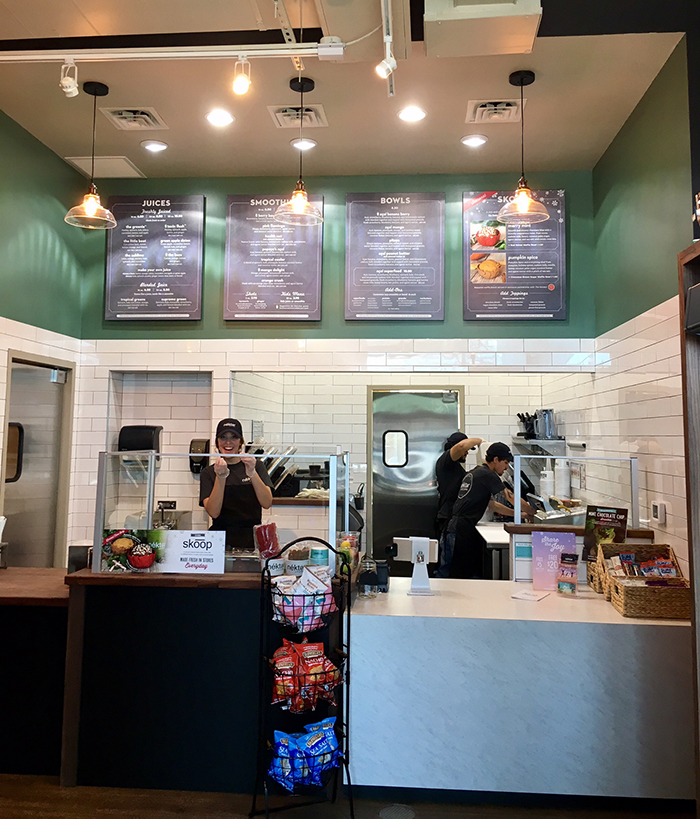 To celebrate their grand opening, Nekter will run the following specials from 9 a.m. to 1 p.m. on Friday:
16-ounce juices and smoothies for $1
24-ounce juice and smoothies for $3
1-Day Cleanses for $30,
Free Nékter swag for the first 50 guests.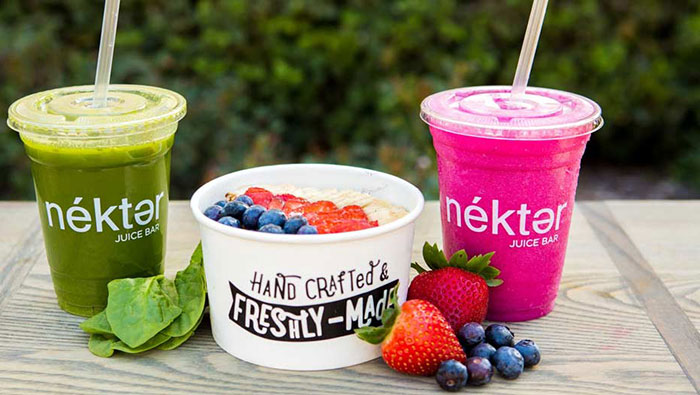 The Greenie juice (left) – Parsley, spinach, kale, celery, cucumber, lemon, and apple. This is their signature drink loaded with all the nutrient rich & appetite suppressant veggies with a touch of apple to sweeten. (120 – 240 calories)
Nekter Juice Bar specializes in juices, smoothies, acai bowls, cold-pressed bottled drinks, cold-brew coffee, chia parfaits and juice cleanses.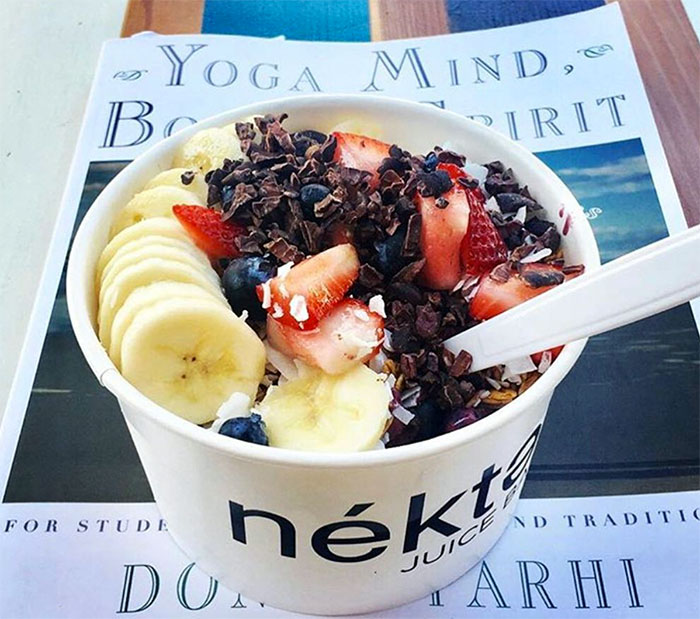 Acai Berry Banana Bowl – Açaí, strawberry, blueberry, banana, and housemade cashew milk blended together and topped with hempseed granola, fresh strawberry, blueberry, banana, and agave nectar (460 calories).
They also serve Skoop, Nektar's version of healthy froyo.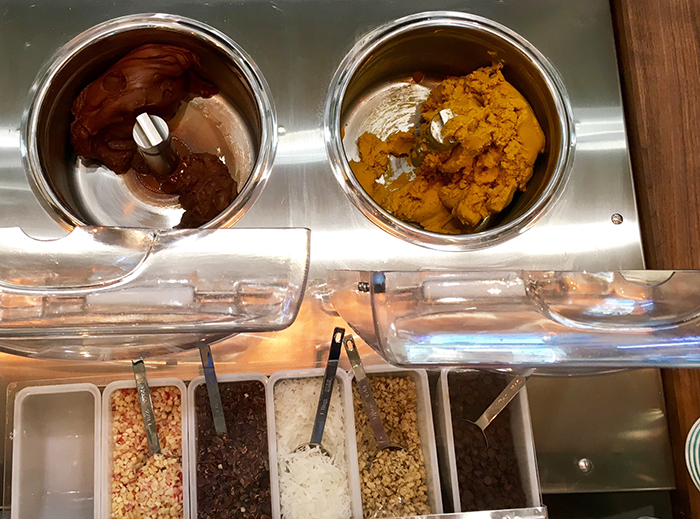 I tried both the chocolate and the pumpkin flavors – delicious. I'd recommend chocolate over pumpkin, but it's close.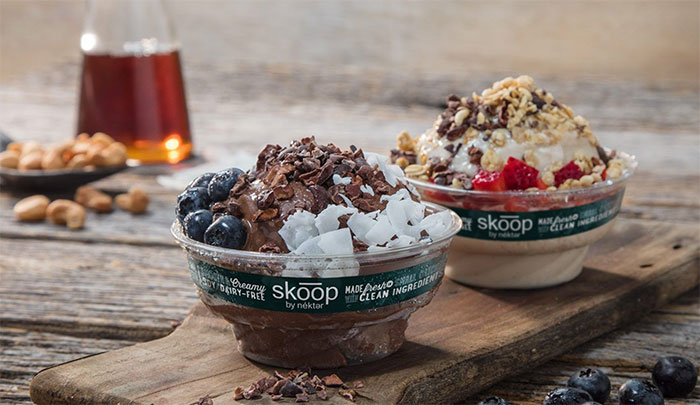 It's made fresh daily with cashew milk and clean, plant-based ingredients. It's dairy-free and soy-free and includes no refined sugars, artificial flavors, or preservatives. Flavors, which will rotate seasonally, now include Pumpkin Spice and Merry Mint.
Nekter is also opening a store on Catawba Ave in Cornelius. The grand opening of that store is Saturday, December 16.
[Agenda story: Harris Teeter raises the stakes in the Charlotte grocery wars with its new South End store. See 21 photos from the grand opening.]
Some photos via nekterjuicebar.com
Read the original article in the Charlotte Agenda.